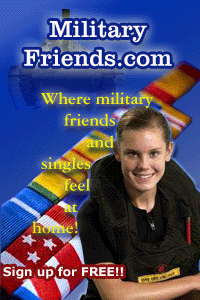 MilitaryFriends.com - the best military dating site!
Military Dating
Dating Military Men & Women
People are attracted to the military lifestyle for varying reasons. It may be that they were raised in a military family and miss the close bonds that form amongst military families serving in the same area. Maybe they enjoy the variety that comes with the reassignments to new and exciting areas of the world. Or perhaps they share the same morals and values as those who are serving our country. Whatever the individual reasons for seeking a relationship with someone in the military, there are definite characteristics that set members of our armed forces apart from your typical civilian.
How Military Singles Differ
The men and women of the United States Army, Navy, Air Force, Marines, Coast Guard and National Guard are some of the most dedicated and selfless individuals put on this earth. Through their service they are continuing on the time honored traditions of their respective branches of the U.S. Military. These individuals have committed themselves to protecting the freedoms that we cherish and the values that we stand for.
---

MilitaryDate.com would like to take this opportunity to thank all of the Members of the United States Military for their commitment to our freedom. For all your service and personal sacrifice, the world is a much better place!
We Salute You!
Horse Lovers - Horse Singles - Horse Dating Site - Riding Partners - All Found at SaddleSingles.com

EquestrianCupid.com - the best horse-lover dating site!